All-on-4™ teeth in a day
Teeth in a Day from £170.00/month*
At London Dental Implants we have highly experienced All-on-4™ implant surgeons whose skills and expertise ensures all of our patients receive an outstanding level of care, resulting in predictable cosmetic outcomes on healthy foundations.
What is All-on-4™ Dental Implants or Teeth in a day?
All-on-4™ dental implants is a treatment that replaces a whole arch or both arches of missing or failing teeth with a fixed bridge attached to dental implants in one visit.
All-on-4™ dental implants offers patients a full arch or both arches of fixed replacement teeth.
All-on-4™ dental implants or Teeth in a day is for patients who have either no teeth or have failing teeth (and perhaps currently wear dentures).
Since the temporary bridge is fixed, patients are free from their dentures on the day of surgery.
On the day of surgery, any remaining teeth are extracted and four to six dental implants placed (our clinicians usually place six implants in the upper arch, and four to six implants in the lower arch), and bone augmentation may also be carried out.
A temporary bridge is attached to the supporting implants.
Four to six months later (allowing the implants to fuse with the bone), the final metal-reinforced fixed bridge is fitted.
Unlike other full arch solutions, there are just four implants (titanium screws) used. This is compared to the 6, 8 or even 10 fixtures which may be used in other implant cases. With All-on-4™, we can replace your teeth in just one day.
* Finance example for the above treatment: 10% deposit of £895, plus 60 payments of £170.03 at 9.9% APR. Total paid £11,096.80, total interest paid £2,101.80. Subject to availability terms and conditions apply.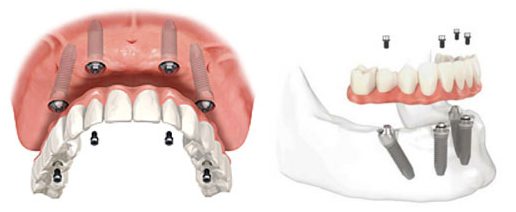 Benefits of an All-on-4™ Solution
Your implant teeth won't slip or move around in the way that dentures can.

All-on-4™ implants restore the function of your mouth, so you are able to eat and speak normally.

Recovery is quick.

Less costs involved than standard placement of 6-8 implants.

Having the implants placed can reduce future jawbone deterioration.

Bone graft unlikely to be required, which also reduces the complexity and cost.

No need for invasive bridgework involving the grinding down of healthy teeth structure.

Our patients find that discomfort or pain with this procedure is minimal.
Types of people we have helped with dental implants…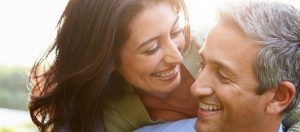 Denture Wearers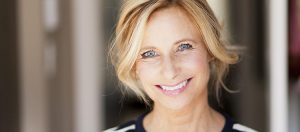 Smokers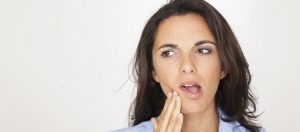 Gum Disease Patients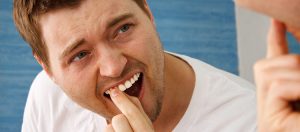 Loose or failing teeth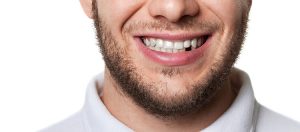 Missing teeth
Frequently Asked Questions
'Before and After' Implant Images